While I haven't quite mastered sourdough bread itself, I was itching to try something new. I wanted to do rolls but I came across a bagel recipe and decided that I needed to try it.
The problem is that most bagels recipes call for high protein flour and malt syrup. I had neither. After lots of searching, I found one that didn't (link later).
But what I really wanted were cinnamon raisin bagels. I figured there was more to it than simply throwing a handful of raisins and cinnamon into my batter. While most of the recipes called for yeast, I did find one that didn't.
I combined features of those two recipes and this one and made a batch of plain, sesame and cinnamon raisin bagels.
The pics aren't the best. I'm much too lazy to charge my camera. But trust me, these bagels are delicious. I may never make regular bread ever again.
Here they are after shaping. I left them to rise.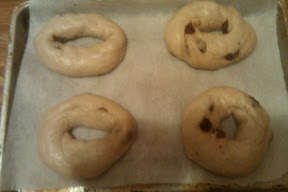 Here they are after their alkaline bath and seeding.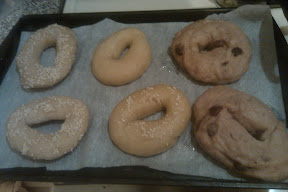 Out the oven and cooled.
Mid-bite
posted from Bloggeroid